Clean-up events shed light on Indonesia's waste crisis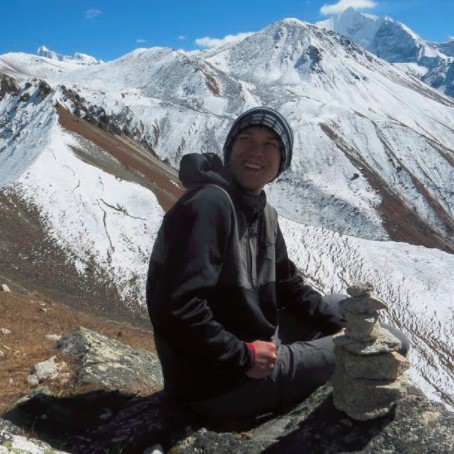 LIAM TAYLOR
INTERN WITH MANTRA ENVIRONMENTAL PROPERTY MANAGEMENT
Legian, Bali
| Wed, February 28, 2018
| 02:16 pm
It is estimated that over 300 tons of plastic waste enters Bali's waterways on a daily basis, while over 1,500 tons of waste is added each day to the island's biggest garbage dump, TPA Suwung. (JP/Liam Taylor)
The rainy season has once again brought one of Indonesia's hidden embarrassments into the global spotlight. The nation's voracious appetite for consumer products manifests in a number of external ways, but one of the most disturbing has to be the single use plastic waste crisis.
Indonesia is one of the world's largest producers of plastic waste, producing 3.2 million tons in 2014. Due to poor waste management strategies, over 1.3 million tons of this plastic ends up in the nation's rivers and oceans, making it the world's second largest marine plastic polluter.
In recognition of the plastic waste crisis, a variety of clean-up events occurred throughout the archipelago on National Trash Awareness Day (Hari Peduli Sampah) last week. These events ranged from small community-planned events to a massive undertaking involving the Indonesian army on the Citarum River in West Java.
In Bali, where a "garbage emergency" was declared by officials in November last year, the community was not only mobilized on Hari Peduli Sampah but also over the weekend as part of the "Bali's Biggest Clean-up" event. The event, which took place in over 115 locations around the island and mobilized over 15,000 people, was organized by One Island One Voice, a collective of like-minded organizations and activists working towards a cleaner, greener and more sustainable Bali.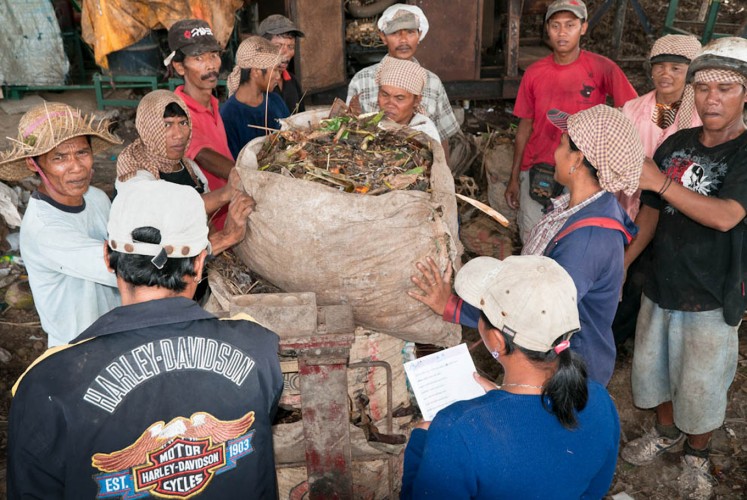 People collect trash at a local recycling facility in Pererenan which is owned and operated by the local community. (JP/Liam Taylor)
It's estimated that over 300 tons of plastic waste enters Bali's waterways on a daily basis, while over 1,500 tons of waste is added each day to the island's biggest garbage dump, TPA Suwung. With Bali's natural environment and status as an international tourist destination under threat by mismanaged waste, the event provides an important method of highlighting the waste issue.
The clean-ups are indicative of a growing awareness and willingness to act on garbage issues throughout Indonesia. As promising as they are, clean-ups do not represent a long-term solution to the waste crisis in Bali, nor in wider Indonesia.
Community awareness of the negative impact of poorly managed plastic waste is certainly important. However, awareness alone is unlikely to reduce dependency on single-use plastics, which ultimately requires action from above.
Central and regional governments need to strengthen their legal framework, whilst also influencing thought patterns and behavior through strategic education campaigns. The government realizes that decentralization is a key factor and they have attempted to push the "Reduce, Reuse, Recycle" concept in recent years. It has been slow to catch on, and as of 2015 recycling made up just 1.9 percent of waste management across Indonesia.
Another national initiative was a tax on plastic bags trialed in 23 cities across Indonesia in 2016. Following significant resistance from local communities and industry, the trial was ended and plans to introduce the tax nation-wide are still being discussed.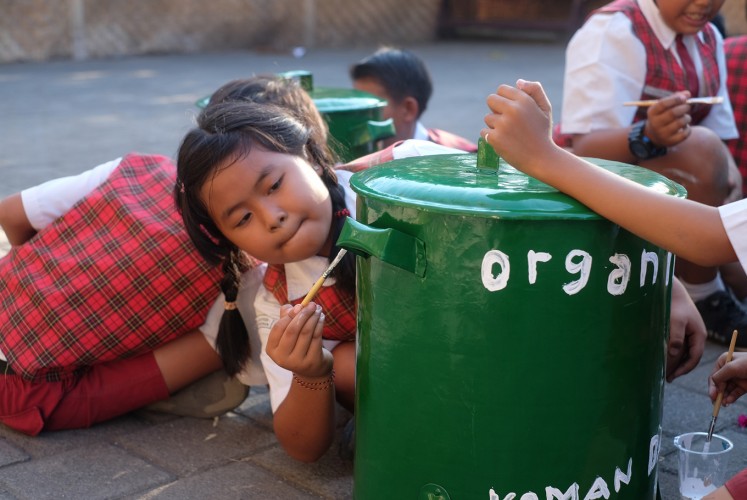 Students from local school paint on a trashcan. (JP/Liam Taylor)
With national action stalling, there is an immediate need for locally owned and community-driven solutions implementing cost-effective infrastructure that is strategically placed and accessible to all. Many organizations have realized this and are taking action in executing more localized approaches to waste management.
One such group located in Bali is Merah Putih Hijau, which in 2016 collaborated with Desa Pererenan in Mengwi to establish and enforce separation on a village level. Together with community donors, the group has managed to build a fully functioning waste collection and recycling facility owned and operated by the village itself.
The strategy is to provide households with the knowledge, tools and principles to separate their waste at source and to have the village enforce rules by themselves. Organic and non-organic materials are regularly collected and taken to the village material facility, where recyclables are stored and sold to the recycling industry and organics, which represent 70 percent of the waste, contribute to compost that can be used by local farmers.
The local government of Desa Padang Tegal, a village in Ubud, has implemented a similar waste management initiative focused on separation at source. Using profits from entrance fees at the Monkey Forest, a popular tourist destination in the area, the village has implemented the "Ubud Clean & Green" project involving waste separation and regular collection.
These schemes offer a successful blueprint for addressing Indonesia's waste crisis at the local level, providing jobs, income and a cleaner environment for local communities. The key is building local and cost-effective infrastructure, providing education, enforcing a system of fines and encouraging separation at source.
From this evidence, it is clear that bottom-up approaches have shown greater success than top-down strategies in addressing Indonesia's waste crisis. It is time for the national government to take notice and begin supporting local waste management.